---
2017-2018 Season
October 27, 2017, 7:30 PM
December 1 & 2, 2017 – 7:30PM
December 3, 2017 – 2:00PM
Seasonal selections with The Parker Chorale.
February 23, 2018, 7:30 PM
Featuring compositions by composers such as Bizet, Mozart, and Gershwin
Please join the Parker Symphony for a wonderful season of symphonic collaborations and celebrations in the beautiful PACE Center.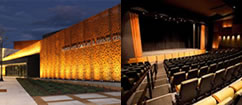 All PSO concerts are held at the
Parker Arts, Culture and Events (PACE) Center
20000 Pikes Peak Ave.
Parker, CO 80138
303.805.6800
Map and Directions
Tickets are available through the PACE Center's web site here.
Rehearsals are held at Cherry Creek High School, unless otherwise noted, and are held on Wednesdays from 7:00pm to 9:15pm