DECEMBER 4 & 5, 2015 – 7:30PM
DECEMBER 6, 2015 – 2:00PM
Seasonal selections with the Parker Chorale.

Program:
A Joyous Noel (Arr. Paul Smith)
The Creation (Haydn)
The Eighth Candle (Reisteter)
Christmas Eve/Sarajevo 12/24 (O'Neill and Kinkel)
Various Themes On Fa-La-La (Bridwell)
Nutcracker Suite Selections – Danse russe Trepak, Valse des Fleurs (Tschaikowsky)
Shepherd's Pipe Carol (Rutter)
Mary Did You Know (arr. Fettke)
Go Tell it on the Mountain (arr. Work)
Oh, Holy Night (arr. Clausen)
Carol of the Bells (arr. Wilhousky)
White Christmas (arr. MacCarthy)
I'll Be Home for Christmas (arr. Zegree)
Jingle Bells (arr. Lojeski)
A Merry Christmas (arr. Warrell)

2015-2016 Season
October 24, 2015, 7:30 PM
With Veteran's Day on its way, join the Parker Symphony Orchestra (PSO), with special guests, the Colorado Mormon Chorale, in commemorating the brave men and women who have served our country with an orchestral program featuring patriotic themes.
December 4 & 5, 2015 – 7:30PM
December 6, 2015 – 2:00PM
Seasonal selections with The Parker Chorale.
February 26, 2016, 7:30 PM
Imagine your favorite films without their music. Would they have the same impact if their masterful compositions were left out? The Parker Symphony Orchestra (PSO) invites you to experience cinematic musical magic as they perform highlights from Oscar-Winning films.
May 6, 2016, 7:30 PM
The Parker Symphony Orchestra (PSO) celebrates an American legend, John Williams, composer of many iconic films such as Schindler's List, Home Alone and many more. Performing a few of Williams' masterful compositions live, PSO and guest artists The Young Voices of Colorado children's choir will captivate film fans and classical music lovers alike.
Please join the Parker Symphony for a wonderful season of symphonic collaborations and celebrations in the beautiful PACE Center.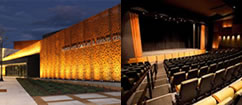 All PSO concerts are held at the
Parker Arts, Culture and Events (PACE) Center
20000 Pikes Peak Ave.
Parker, CO 80138
303.805.6800
Map and Directions
Tickets are available through the PACE Center's web site here.
Rehearsals are held at Cherry Creek High School, unless otherwise noted, and are held on Wednesdays from 7:00pm to 9:15pm