2014-2015 Concert Dates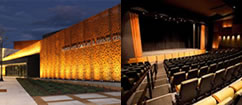 All PSO concerts are held at the
Parker Arts, Culture and Events (PACE) Center
20000 Pikes Peak Ave.
Parker, CO 80138
303.805.6800
Map and Directions
Tickets are available through the PACE Center's web site here.
To the Unseen World
October 24, 2014, 7:30 pm
People love to ponder the "Unseen World" as Halloween approaches and no one knew this better than the composers who created amazing fantasy worlds with their music. The PSO will bring "The Unseen World" to our audience with themes that take our audience from Rome, to a demon witch. Join the Parker Symphony for a magical evening of sound that will put you in the mood for Halloween.
Program:
The Night Creeps Slowly
(Premier of new composition by local composer Ryan Smith)
The Pines of Rome
(Respighi)
Danse Macabre
(Saint-Saens)
Marche au Supplice
(Berlioz)
The Noon Witch
(Dvorak)
Ryan M. Smith
Ryan M. Smith is a Colorado musician, composer, teacher, and producer. He received his Bachelor of Music degree with a Concentration in Composition from Metropolitan State University of Denver in May of 2013 and graduated with Honors. Ryan plays in local music groups, teaches privately and with local music organizations, and enjoys writing a variety of music ranging from contemporary classical to popular styles. He has written, recorded, and produced two solo albums under the name M.I.X. along with writing music for local high school and community groups. Ryan aspires to help other musicians create their music by setting up a music production organization which will help them with recording, shows, songwriting, and more. Ryan's end goal is to bring people together to help them understand themselves and one another using music as his medium.
A Classic Parker Holiday
December 5 & 6, 2014, 7:30 pm
Seasonal selections with the Parker Chorale.
Program:
Many Moods of Christmas, Suite 3
(Arranged by Robert Shaw and Robert Russell Bennett)
Hallelujah Chorus from Christ on the Mount of Olives
(L. Van Beethoven)
O Come, O Come Emmanuel
(Arranged by Paul Smith)
Old Christmas Music
(Arranged by Philip Lane)
In the Bleak Midwinter
(Gustav Holst)
Hanukkah Children's Dance
(Daniel Bukvich)
Festive Celebration
February 27, 2015, 7:30 pm
The doldrums of mid-winter are in the air in February, so why not cheer up with a festive celebration of great music with the Parker Symphony. Brahms wrote his Academic Festival Overture in thanks for being awarded an honorary university degree, but his sense of humor was intact when the musical themes were from student drinking songs. Rodrigo's famous Concierto De Aranjuez for guitar will be a special treat with the sensuous adagio and spirited latin flavors. Our guest soloist is Nicolò Spera. 2015 marks the 150th anniversary of Jean Sibelius' birth and the PSO will conclude our festive evening with his celebrated Second Symphony. Please join us in "Festive Celebrations".
Program:
Concierto de Aranjuez
(Rodrigo)
Featured Soloist: Nicolo Spera, professor of Guitar at CU Boulder
Academic Festival Overture
(Brahms)
Symphony #2
(Sibelius)
Nicolò Spera
"One of Italy's finest guitarists, a very active performer on the two shores of the Atlantic Ocean, a thoughtful musician and a wonderful pedagogue."
– Lorenzo Micheli, internationally renowned concert artist and master teacher
Italian guitarist Nicolò Spera brings to his performance a unique synthesis of European and American traditions. Spera is one of the few guitarists in the world to perform on both six-string and ten-string guitars, as well as on theorbo. His wide-ranging repertoire includes the extraordinary music of the Franco-Andalusian composer Maurice Ohana. He has given lecture-recitals on the music of Ohana at different institutions and festivals, including the Mediterranean Guitar Festival, Arizona State University, Conservatorio della Svizzera Italiana, Conservatorio Giuseppe Verdi in Milan, San Francisco Conservatory, and the University of Surrey for the launch of the International Guitar Research Centre. His CD of Ohana's complete works for solo guitar (Soundset Recordings), presenting the world première recording of Estelas, was awarded the 5-stars "Disco del mese" review by Seicorde, the major Italian classical guitar magazine, and it was described as "un disco di altissimo valore."
Spera is equally at home in outreach concerts for the young, masterclasses for all ages, solo recitals and concerti with orchestra. As a soloist, he has performed with conductors Andrés Cárdenes, Alejandro Gómez Guillén, Cynthia Katsarelis, and Leonardo Vordoni. About his performance of Rodrigo's Concierto de Aranjuez, Robin McNeil wrote: "I have heard this piece performed several times, and the performance that Nicolò Spera gave was the best I have ever heard. First of all Spera is a virtuoso guitar player, and second, he is a superb musician." (OpusColorado)
He has won top prizes at several Italian and international competitions and is regularly invited to play in music festivals such as the Strings Music Festival in Steamboat Springs, the Tangents Guitar Series in San Francisco, the Mediterranean Guitar Festival in Italy, and the Sauble Beach Festival in Canada. Thanks to his passion for contemporary music, Spera had the privilege of collaborations with composers such as John Drumheller, Ryan Fiegl, and the accomplished Italian conductor Simone Fontanelli, giving premières and performances of their guitar works.
His most influential teachers are Oscar Ghiglia, Jonathan Leathwood, and Lorenzo Micheli. Spera holds degrees from the Claudio Monteverdi Conservatory in Bolzano and the prestigious Accademia Musicale Chigiana in Siena, an Artist Diploma in Guitar Performance at the University of Denver and a Doctor of Musical Arts degree from the University of Colorado Boulder.
In 2011, Spera was appointed to the faculty at the University of Colorado Boulder, where he is Instructor of Classical Guitar. He is also on the faculty of the International Studies Institute at Palazzo Rucellai in Florence, Italy. In 2013, he founded the University of Colorado International Guitar Festival and Competition, an unprecedented event that attracts prestigious guests, guitar performers, and students from all over the world.
Latin Spice
May 15, 2015, 7:30 pm
The spicy taste of Latin music is always a delight to the PSO. With world class composers from Spain, France and even the USA you'll have a hard time staying in your seat. Join us for a tour of music from Mexico, Spain and even Ravel's famous "Bolero" from France. Featuring Extasis.
Program:
Three Cornered Hat
(de Falla)
Bolero
(Ravel)
Danzon #2
(Marquez)
Extasis
Founded in 1998 by bandoneonista Evan Orman and violinist Erin Furbee, Extasis has thrilled audiences around the world with Argentine tango music.
Evan Orman, bandoneón
Tom Hagerman, violin
Michael Tilley, piano
Susan Cahill, double bass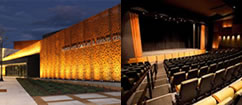 All PSO concerts are held at the
Parker Arts, Culture and Events (PACE) Center
20000 Pikes Peak Ave.
Parker, CO 80138
303.805.6800
Map and Directions
Tickets are available through the PACE Center's web site here.