Meet the Director
René Knetsch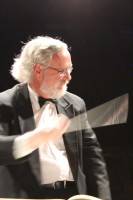 Since receiving his masters degree in violin performance from Wichita State University in 1976, René has made his living in music, as a performing violinist, teacher, and conductor. Before moving to Denver in 1994, he was a violinist with several professional orchestras, including Oklahoma, Jacksonville, Orlando, and Birmingham. His first job after college was at Lamar University, in Beaumont, Texas, where he taught violin and viola, and conducted the university's orchestra. While living in Birmingham, Alabama in the early 90's, where he played in the Alabama Symphony, René had the opportunity to be the music director of the Red Mountain Chamber Orchestra, a community orchestra in many ways similar to the Parker Symphony Orchestra. It was this group that made him come to understand the important role that community orchestras play in providing opportunities for musical expression to many who would otherwise not have that chance. René is also the concert master for the Lone Tree Symphony Orchestra.
René keeps very busy these days by doing a wide variety of things. During the summer months he is the principal 2nd violinist with the Central City Opera Orchestra. He teaches violin and is the conductor of the orchestra at Arapahoe Community College. He and his wife, Lynne, are the violinists of the Confluence String Quartet, a group which presents concerts throughout the state. Besides doing freelance work at many different venues in the area, René also maintains a private teaching studio of approximately 30 students.
When he is not busy with his musical endeavors, René spends time in his woodworking shop at home. He has been an avid woodworker since he was in high school. Be sure to check out his website at www.sjoelbakcrafter.com.
Our Concertmaster
Nadya Hill
Nadya Hill has degrees in violin performance and voice performance from the University of Michigan, both summa cum laude. She has been playing violin as long as she can remember, and has performed in public since the age of 4. While studying violin at university, Nadya became aware of her passion for the vocal repertoire, and began her vocal studies at age 19, and was accepted to the University of Michigan's Vocal department nine months later. Hill has performed in recitals and with orchestras across the United States and in numerous European countries. She is comfortable in a wide range of musical styles from classical to jazz and ethnically-influenced music. Nadya currently teaches violin classes in two Denver schools, and is the Assistant to the Executive Director for the Colorado Youth Symphony Orchestra.