Our Director
René Knetsch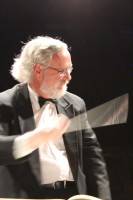 Since receiving his masters degree in violin performance from Wichita State University in 1976, René has made his living in music, as a performing violinist, teacher, and conductor. Before moving to Denver in 1994, he was a violinist with several professional orchestras, including Oklahoma, Jacksonville, Orlando, and Birmingham. His first job after college was at Lamar University, in Beaumont, Texas, where he taught violin and viola, and conducted the university's orchestra. While living in Birmingham, Alabama in the early 90's, where he played in the Alabama Symphony, René had the opportunity to be the music director of the Red Mountain Chamber Orchestra, a community orchestra in many ways similar to the Parker Symphony Orchestra. It was this group that made him come to understand the important role that community orchestras play in providing opportunities for musical expression to many who would otherwise not have that chance.
He made his mark in the Denver area playing as the principal 2nd violinist with Opera Colorado and the Central City Opera Orchestra, as concertmaster for the Lone Tree Symphony Orchestra, and as conductor of the Arapahoe Community College. He is now semi-retired, but continues to conduct the PSO and play with Inside The Orchestra – a group that performs classical music concerts in elementary schools and Tiny Tots concerts for young children and parents.
When he is not busy with his musical endeavors, René spends time in his woodworking shop at home. He has been an avid woodworker since he was in high school. Be sure to check out his website at www.sjoelbakcrafter.com.
---
Our Concertmaster
Cynthia Carrier
Ms. Carrier is an established violinist and music teacher. She was the assistant concertmaster of the Lone Tree Symphony and performed with the Parker Symphony last year. She has also previously performed with the Anchorage Symphony Orchestra, the Orchestra dell'Università di Firenze in Florence, Italy, the Lakeshore Symphony Orchestra in Chicago, the Midwest Chamber Ensemble, and the Lee's Summit Symphony Orchestra in Missouri. As a soloist, she performed in the Kansas City and Chicago areas including at the Gospel Fest in 2005 in front of an audience of over 3,000. She is currently also an elementary school music teacher in Castle Rock. She earned a Bachelor of Music Education from Wheaton College and a Master of Arts in Curriculum and Instruction from the University of Missouri-Kansas City.
---
The Orchestra
CONDUCTOR
René Knetsch
VIOLIN I
Cindy Carrier, Concertmaster
Louise Deoge
Dave Higgins
Debra Ortmann
Mary Roper
Jenny Spampinato
Dianna Starnes
Diane Thomas
Roxanna Trevino
VIOLIN II
Amelia James +
Mary Barnhart
Linda Bisbee
Staci Blinn
Dawn Carlson
Jena Dickey
Dana Drown
Bruce Goldstein
Linda Kurht
Alicia Mitchell
Susan Thomas
Lee Weinberger
Andrea Wells
John Williams
VIOLA
Andrew Zbryk +
Melinda Boyd
Samuel Diaz
Farley Fleming
Amy Jennings
Andrew Kolczynski
John Schultz
Megan Yeung
CELLO
Brad Simpson +
Kerry Beebe
Karen Hall
Emily Kargarszdeh
Shari Mathias
Katherine McMurray
Kenneth Rubin
Amanda Rusten
BASS
Mary Anne Parrish +
Bill Boyd
Joseph Turnage
FLUTE/PICCOLO
Sue Duehr +
Erin Hunt
CLARINET
Robert Nuñez +
Markus Botwinick
BASS CLARINET
Karen Weiser
OBOE
Cheryl Poules +
Joanie Nelson
ENGLISH HORN
Joanie Nelson
BASSOON
Megan Altekruse +
Tim Hoyman
FRENCH HORN
Elaine Anderies +
Elisabeth Bristol
Jeff MacQueen
TRUMPET
Jeff Blinn +
Braden Collison
Esther Morgan
TROMBONE
Dan Reinschmidt +
Justin Olmos
BASS TROMBONE
Rick Phelps **
TUBA
John Morgan
TIMPANI
Teag Solberg
PERCUSSION
Robert Russell
Dan Wibben
HARP
Joan Fitzpatrick
PIANO
Jeannette Howell
+ Principal Players
** Charter Members
Musicians are listed alphabetically to emphasize their equal contributions to the orchestra