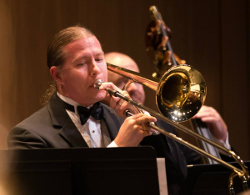 If you've attended any Parker Symphony concert over the last 3 years, you've definitely heard our trombonist Dan Reinschmidt. And like last year's holiday concert, he's going to rock both the trombone and the guitar during the A Classic Parker Holiday concerts this weekend. After all, what would a Trans-Siberian Orchestra piece like A Mad Russian's Christmas be without electric guitar?
Since he's going to play such a big part in our upcoming performances with both slides and riffs, I thought it would be a perfect time to learn more about this multi-talented musician and dedicated family man.
How long have you played with the PSO?
I've been with the PSO since 2013. That'd be 3 seasons.
What do you do when you're not playing with the PSO?
While my main day job is full-time dad, I also work at Play-It-Again Music in Parker, which donated some of the equipment we're using at this concert, and as the choir director at St. Matthew's Episcopal church in Parker.
Are you in a band?
I'm playing with several at the moment. I play trombone with the Blues Brothers, who played at PACE on November 26. I play bass guitar with an indie rock band called Survive The Planet, which is in the process of recording an album. I also play bass with a classic rock cover band, Misconduct, which will be playing a couple of private shows in December and February.
Do you play other instruments besides trombone and guitar?
Trombone, euphonium, guitar, bass guitar, and trumpet. I have an extensive collection of instruments that I can play a little bit on, but those are the instruments I am proficient at. Trombone is my "number one."
How did you get your start in music?
I learned to play trombone in middle school band class. My mom all but insisted that I try band and I all but insisted that it be on the trombone. I got the idea from a school assembly in 5th grade where a man played trombone, accordion, and high-hat simultaneously. It must have made an impression on me.
Do you have a fond musical memory you could share?
Last season in the PSO my niece, Meaghan Reinschmidt, joined the PSO on trumpet. It was the first time I was able to play along side her in an official capacity. I love music and I love my family, when they come together it's the funnest thing I can imagine.
Do you have a favorite band or musician? Favorite composer?
I'm into industrial and progressive rock as well as metal. If I had to pick a favorite band it would be Nine Inch Nails. As for composers, I love the classical and romantic periods the most, but few have reached the level of J.S. Bach. A close second would be Percy Grainger.
What are your favorite pieces to play?
Stavinsky's Firebird Suite, Wagner's Lohengrin, and any Bach Fugue. Lincolnshire Posy by Grainger was probably my favorite overall.
Is there anything in particular you like or find interesting about playing A Mad Russian or another piece in this concert?
I find it interesting whenever a piece of music is adapted to a whole new style. It's like hearing something from a very different perspective. Many musicians hear the Nutcracker Suite and groan, "not this again!" but with this arrangement, it's a completely different beast with a whole new energy.
As for the other pieces, I feel like the choir completes the orchestra, like we're missing an integral part of our instrument without them.
What is your proudest accomplishment?
Seeing/hearing about former students of mine as happy, successful adults.
Anything else you'd like to share?
The PSO is one of the funnest long-term experiences I have ever been a part of, particularly because of the wonderful people in it. We somehow combine the serious nature of classical music discipline with silly over-zealous fun and camaraderie, especially between the low brass and trumpet sections.