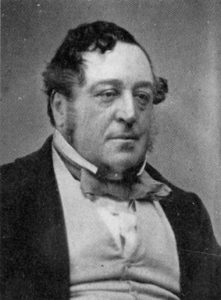 Gioachino Rossini is a name well-known in opera circles. Although the Italian composer did write many songs, chamber works, and piano pieces, his 39 operas are what propelled him to fame during his time and what keeps his name alive in concert programs around the world. He is the man behind The Barber of Seville and William Tell – both of which have parts that are often heard in movies, TV shows, and cartoons (the famous ending of the William Tell Overture is the Lone Ranger theme). In fact, we performed "Una voce poco fa" from The Barber of Seville at our concert on May 3, 2019 because it can be heard in such films as "Jumanji" (1995) and "Citizen Kane".
Despite them being his claim to fame, however, there's more to Rossini than his 39 operas. Here are just 10 other cool facts about Rossini that you can use to impress your opera-loving friends.
1. He was a leap-year baby. Rossini was born February 29, 1792. A few months before he died, he celebrated his 19th "actual" birthday.
2. He wrote the bulk of his operas in only 10 years. Rossini composed 30 of his 39 operas between 1812 and 1822. His last and one of his most famous operas, however, was written in 1829 – Guillaume Tell (William Tell).
3. He loved fine food. His biographers noted that when he was a child, Rossini worked as an altar boy just so he could drink the sacramental wine left over after mass. When we moved to Paris, he became close friends with a chef who dedicated recipes to Rossini and, in turn, the composer wrote piano pieces dedicated to entrees and desserts. He also once linked coffee and operas noting that the effect of caffeine on the body diminished quickly. He reportedly said, "Coffee is a matter of fifteen or twenty days: luckily the time to make an opera". Learn more about coffee and classical music.
4. His operas are among the most performed in the world. Rossini is right up there along with Verdi, Mozart, and Puccini in terms of how often their operas are performed. Interestingly, although William Tell was one of the grandest operas of its time, it is rarely performed today (outside of the Overture). It was reported that in 2017/2018, there were only 32 productions of it in the world. Compare that to 889 of La Traviata and 760 of Carmen.
5. Although he was said to be rather jovial, he actually suffered from neurasthenia and depression. Neither condition was recognized at the time. Specifically after his semi-retirement at the age of 37 (semi because he retired from opera, but continued to write smaller pieces), he would experience long periods of deep depression and insomnia. He also became obese and began to have suicidal thoughts. It is said that the death of his mother also led him to resent the remaining living woman in his life – his second wife Olympe. After he returned to Paris in 1855, it is said his musical spirits were once again lifted.
6. After his death, his wealth was used to set up a home for retired opera singers. When Rossini passed away in 1868, his second wife, Olympe, inherited a large sum, which, when she passed, was used to establish a conservatory of music in Pesaro, Italy (his birthplace) and a home for retired opera singers in Paris.
7. He was a man of great wit who loved to entertain. Later in his life, Rossini was said to have been a witty conversationalist and he enjoyed entertaining friends (which goes hand in hand with his love for fine food). He was wealthy and in-demand socially. He also reportedly said or wrote some very interesting things. Here are just a handful of Rossini quotes:
Give me the laundress' bill and I will set to music even that.
Monsieur Wagner has good moments, but awful quarters of an hour!
Wait until the evening before opening night. Nothing primes inspiration more than necessity, whether it be the presence of a copyist waiting for your work or the prodding of an impresario tearing his hair. In my time, all the impresarios in Italy were bald at thirty.
8. His tomb in Paris is empty. Rossini died in Paris and was buried at the famous Père Lachaise Cemetery (where you can find other notable names like Chopin, Molière, Jim Morrison, and Oscar Wilde). His tomb is absolutely impressive with huge wrought iron doors and a stone surround. However, it is also empty. At his wife Olympe's request, his remains were relocated to the church of Sta Croce in Florence.
9. He wrote The Barber of Seville in less than three weeks. Rossini allegedly wrote his most famous opera in less than three weeks (he claimed 12 days). While it is well-loved today, it was unsuccessful when it premiered in Rome. This is, perhaps, because the audience preferred an earlier adaptation of the play it was based on – a version by another composer named Giovanni Paisiello. It is said that Paisiello himself provoked the audience to openly voice their dislike.
10. He was nicknamed "Monsieur Crescendo". This wasn't a term of endearment, however. His nickname came from his perceived overuse of crescendo for dramatic effect. "The Crescendo degenerated into a mere mannerism with Rossini, in whose works it is used with wearisome iteration," reads the Crescendo entry of Grove's dictionary of Music and Musicians.