Depending on the instrument you play or your passion for classical music, you may have heard the works of one or a few female composers. Pianists, for example, may know of or even have played Clara Schumann. However, the vast majority of the world has never heard of the likes of Amy Beach, Fanny Mendelssohn, or Florence Price, and that is quite unfortunate.
Women have actually made significant contributions to the classical music world. However, they remain on unequal footing with their male counterparts. So for International Women's Day, here's a look at some notable and some forgotten women composers throughout history.
Clara Schumann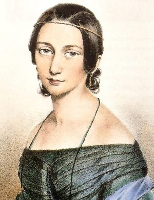 Clara Schumann (1819-1896) was not only the wife of composer Robert Schumann, but also one of the most distinguished pianists of the Romantic era. Her career began at a young age. At age 11, she went on a concert tour of various European cities and gave her first solo concert in Leipzig. Later, during her marriage to Robert, she met Johannes Brahms and not only helped encourage his career, but also was the first to perform publicly any Brahms work. She premiered several of his works during her career including the Variations and Fugue on a Theme by Handel.
She also began composing at a young age. In fact, she wrote her piano concerto when she was just fourteen and performed it at age sixteen (with Mendelssohn conducting). As she grew older and focused on other responsibilities, she found it difficult to find time to compose. Her output decreased greatly when she reached 36 years old. Her works include piano pieces, the aforementioned piano concerto, a piano trio, choral pieces, songs, and three Romances for violin and piano.
Fanny Mendelssohn
Like Clara Schumann, Fanny Mendelssohn (1805-1847) was a pianist and composer. She was Felix Mendelssohn's sister and the pair shared a deep love of music. Felix arranged to have some of Fanny's songs published under his name, due to prevailing attitudes toward women publishing music, which actually led to an embarrassing moment. Queen Victoria received Felix at Buckingham Palace and expressed her intention of singing her favorite of his songs. He confessed it was actually by Fanny.
Fanny Mendelssohn was very prolific. She composed over 460 pieces including a piano trio, books of piano solo pieces and songs, and a cycle of pieces depicting the months of the year titled Das Jahr. This last work was written on colored sheets of paper with illustrations by her husband, Wilhelm.
Fanny passed away after suffering a stroke while rehearsing one of her brother Felix's oratorios. Felix completed his String Quartet No. 6 in F minor in memory of her.
Louise Farrenc
Louise Farrenc (1804-1875) is undoubtedly France's first female composer. Born into a family of sculptors, she showed early talent in music and studied under such masters as Ignaz Moscheles and Johann Hummel. She married a flute student and together they gave concerts throughout France. The couple opened a publishing house together, Éditions Farrenc, which became one of France's leading music publishers for 40 years.
Like other female composers around her time, she was a pianist from a young age and wrote many works for the instrument. However, while she wrote exclusively for piano until 1830, she expanded her range and wrote works for orchestra starting in 1834. She wrote 3 symphonies, a wind sextet, vocal works, choral works, and chamber music in addition to music for piano. Unlike Schumann and Mendelssohn, Farrenc's works remained largely forgotten until the late 20th century during a surge in interest in women composers. In December 2013, Farrenc was the subject of the BBC Radio Three "Composer of the Week" program.
Rachel Portman
Rachel Portman (1960-present) is best known as a composer of film scores and, unlike our previous composers, is still writing today. She was born in Surrey, England and became interested in music at a young age. She started composing at the age of 14 and subsequently studied music at Worcester College, Oxford. During her time in school, she started experimenting with writing music for student films and theater productions. After that, she wrote music for drama in BBC and Channel 4 films.
Since then, she has written over 100 scores for film, TV, and theater including The Legend of Bagger Vance, Mona Lisa Smile, Emma, Benny and Joon, The Lake House, Oliver Twist, and The Duchess. Her most famous soundtrack compositions are for the movies Chocolat and The Cider House Rules which was used in the Pure Michigan commercials.
Rachel Portman was the first female composer to win an Academy Award for Best Musical or Comedy Score. She won for Emma in 1996. She has also won a Primetime Emmy Award for her work on Bessie.
Florence Price
Florence Price (1887-1953) was not only a female composer, but also the first African American woman to be recognized as a symphonic composer and the first to have a composition played by a major orchestra. Born in Little Rock, Arkansas, her mother was a music teacher who guided her early musical training. She had her first piano performance at the age of four and published her first composition at the age of 11. After graduating high school at 14, she enrolled in the New England Conservatory of Music. She graduated with honors in 1906.
After college, she moved back to Little Rock and was married. They moved to Chicago after a series of racial incidents. It was in Chicago where Florence entered her most fulfilling period of composition. She studied composition, orchestration, and organ with leading teachers and published four pieces for piano. Unfortunately, financial struggles led to a divorce and Florence became a single mother. To pay the bills, she worked as an organist for silent films and composed songs for radio ads (under a pen name). She submitted compositions for Wanamaker Foundation Awards and won first prize with her Symphony in E minor. The Chicago Symphony Orchestra premiered the symphony in 1933, making it the first composition by an African-American woman to be played by a major orchestra.
Florence Price's music incorporates elements of African-American spirituals, Southern themes, and inspiration from blues, African-American church music, and modern urban sounds.
Amy Beach
Amy Beach (1867-1944) was also a pianist as well as a composer. She is considered the first successful American female composer of art music. She was born a prodigy, able to sing 40 songs accurately by age one. She learned to sing counter-melody to her mother's singing at age 2 and by age 3, she was reading. She composed simple waltzes at age 5. At age 14, Amy received a year of formal training in composition.
Her performance debut was when she was 16. She played until she was married at which time she agreed to limit her performance to two public recitals per year. She devoted herself to composition. However, her husband disapproved of her studying composition with a teacher. So other than her one year of formal training at 14, she was a self-taught composer. She collected every book she could find on theory, composition, and orchestration.
Her first success as a composer came with the performance of her Mass in E-flat major by the Handel and Haydn Society orchestra. It was the first piece the group performed composed by a woman. After that, she wrote many other works including her Piano Concerto, which she premiered as soloist with the Boston Symphony, and the Gaelic Symphony. Her compositions include symphonic works, choral works, chamber music, solo piano music, and songs (of which she wrote about 150).
Cécile Chaminade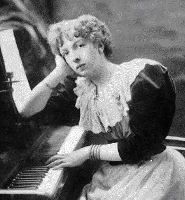 Cécile Chaminade (1857-1944) was a female composer in France whose music was largely financially successful. Born in Paris, she studied music with her mother at first and then piano, violin, and music composition later with other notable names. She began composing at a young age and when she was eight years old, she played some of her music for Georges Bizet who was impressed.
Cécile wrote character pieces for piano and salon songs – all of which were published. Many of her piano compositions received good reviews from critics and were favorites in Europe and America. In fact, when she traveled to the United States in 1908, she discovered that her Scarf Dance and the Ballet No. 1 were in the music libraries of many piano music lovers. Other notable compositions include her Concertstück in C sharp minor for piano and orchestra, ballet music for Callirhoë, and her Flute Concertino in D major. The latter remains one of the most popular of her works performed today.
In 1913, she was awarded the Légion d'Honneur, a first for a female composer.
Ethel Smyth
Dame Ethel Mary Smyth (1858-1944) was the first female composer to be awarded a damehood. In spite of her father's protests, she studied composition at Leipzig Conservatory where she met notable other composers like Dvořák, Grieg, Tchaikovsky, Clara Schumann, and Brahms. She went on to composer 6 operas and numerous choral and orchestral works and songs. Unfortunately, her composing career was cut short by hearing loss. She was completely deaf after 1913.
Recognition for Smyth came late. Her opera The Wreckers, though considered the "most important English opera composed during the period between Purcell and Britten", wasn't even performed in the US until 2007. Contemporary critics noted that her music was too masculine for a "lady composer", as critics called her. Still, she received damehood in 1922 and several honorary doctorates for her composing.
Deafness didn't stop Smyth completely. Although she stopped composing, she joined the suffrage movement and published ten highly successful, mostly autobiographical, books.
Jennifer Higdon
Jennifer Higdon (1962-present) is an American composer of classical music. She is also probably the most award-winning composer on this list. In 2010, she won the Pulitzer Prize for Music for her Violin Concerto with the note that it is "a deeply engaging piece that combines flowing lyricism with dazzling virtuosity". She has two Grammy Awards for Best Contemporary Classical Composition – one for her Percussion Concerto and the second for her Viola Concerto. An album of her music, Higdon: All Things Majestic, Viola Concerto, and Oboe Concerto, won the 2018 Grammy for Best Classical Compendium.
Higdon has received commissions from major symphonies including the Philadelphia Orchestra, the Cleveland Orchestra, the Chicago Symphony, and the Atlanta Symphony among others. Her works to date include an opera Cold Mountain premiered by The Santa Fe Opera, numerous chamber works for a variety of instruments, vocal compositions, and orchestral pieces including blue cathedral featured below. blue cathedral was commissioned by the Curtis Institute of Music in 1999 and is one of her most performed works.
Maria Theresia von Paradis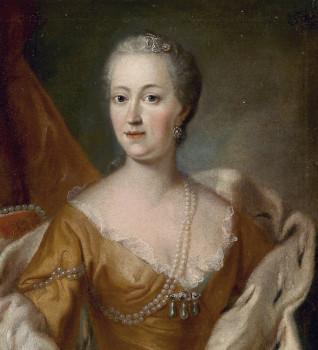 Maria Theresia Von Paradis (1759-1824) overcame blindness to become a notable composer in her time. She lost her eyesight sometime between the age of 2 and 5, but that didn't hold her back. She studied music under a variety of teachers and composition under Antonio Salieri. She commissioned works from Salieri, Haydn, and Mozart to perform and she toured Europe performing concerts in Germany, Switzerland, Paris, and London.
During her tour, she began composing using a board invented by librettist Joann Riedinger. She started with solo piano works and pieces for voice, but eventually went on to write 5 operas and 3 cantatas. Unfortunately, almost all of her works are lost to time. The Parker Symphony, however, performed one of the few remaining works recently – the overture from her opera Der Schulkandidat.
In addition to playing and composing music, she also helped establish the first school for the blind in Paris and a music school in Vienna devoted to teaching young girls music.
We realize there are many other women we could list here. Follow the links below for more information on these and other women composers.
The Great Women Composers – Classic FM
10 Female Composers You Should Know
18 Women Composers You Should Know
Five Forgotten Female Composers – BBC