Friendship comes in many forms. When it comes to your circle of friends, you may include everything from acquaintances to BFF's. Or you may prefer something more intimate and keep your group limited to people you've known for years. Either way, friends play an important role in life.
The same is also true for classical music composers. In fact, some of the most famous composers, like Mozart and Haydn, were actually very close friends who inspired and challenged each other to reach new musical heights. Since today, June 8, is National Best Friend Day, we're going to profile just a few of these classical music composer friendships.
Mozart and Haydn
Though he was far younger than Haydn, Mozart's relationship with Haydn was one of mutual respect. They most likely first met in 1781 when Mozart moved to Vienna. Haydn was already a famous composer and Mozart's reputation was on the rise. It is not well-documented, but they appear to have been friends that enjoyed each other's company and work. Some music suggests that Haydn may have been somewhat of a mentor to Mozart. Haydn freely praised Mozart, once saying, "I have often been flattered by my friends with having some genius, but he was much my superior." Mozart was documented as speaking very highly of Haydn. Mozart even wrote a series of string quartets dedicated to Haydn.
Haydn was distraught over Mozart's death. He wrote, "for some time I was quite beside myself over his death, and could not believe that Providence should so quickly have called away an irreplaceable man into the next world." Haydn also wrote to Constanze Mozart, the widow, offering musical instruction to her son when he reached the appropriate age, and later followed through on his offer.
Mahler and Strauss
Both Gustav Mahler and Richard Strauss were great conductors and composers during the 1890's and 1900's. Though Mahler once said, "Strauss and I come from different sides of a mountain. One day we shall meet," they met in 1887 and remained friends until Mahler's untimely death. Mahler conducted many of Strauss' works and Strauss was a supported of Mahler's music, conducting several of his symphonies. They challenged each other musically and despite personality differences (Strauss was cool and collected while Mahler was self-centered and neurotic), they enjoyed spending time together. According to Mahler's wife, "They enjoyed talking to one another as they were never of one mind."
It is said that upon Mahler's death, Strauss was so devastated that he could barely speak. He considered Mahler a good friend and worthy adversary.
Holst and Vaughan Williams
Gustav Holst and Ralph Vaughan Williams are two of the best-known English composers and were lifelong friends. They met in 1895 just after Holst celebrated his 21st birthday. They served as each other's chief critics. They would play their latest compositions to each other while still in the works to hear valuable feedback. They also enjoyed talking about a variety of subjects. Vaughan Williams once said they discussed, "every subject under the sun from the lowest note of the double bassoon to the philosophy of Jude the Obscure."
At Holst's funeral in 1934, Vaughan Williams conducted music by Holst and himself.
Brahms and Dvořák
The friendship between Brahms and Dvořák is actually quite an unlikely one. Brahms was not known as particularly encouraging of young and new talent. A couple of composers even became obsessed with his lack of appreciation for their work. In 1874, however, he reluctantly sat on a jury to award financial support to talented composers in need. He encountered a submission from an obscure Czech composer including two symphonies, several overtures, and a song cycle. He was reportedly "visibly overcome" by the "mastery and talent" of the individual who we would learn was Dvořák. He arranged for Dvořák's work to be given to his own publisher, Simrock, who accepted it and even commissioned what became one of Dvořák's most popular works, the Slavonic Dances.
Through the years, Dvořák never forgot that he owed a great deal to Brahms' interest. He regularly kept in contact with Brahms, even dedicating his String Quartet no. 9 in D minor to him. Brahms not only served as Dvořák's mentor, offering advice and support, but also even served as Dvořák's copy editor and proofreader while Dvořák traveled to America. Dvořák said it was hard to understand why Brahms would "take on the very tedious job of proofreading. I don't believe there is another musician of his stature in the whole world who would do such a thing."
Copland and Bernstein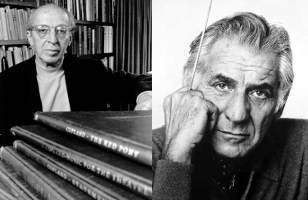 While Holst and Vaughan Williams were well-known in England, there was also a musical friendship of two greats in America – that of Aaron Copland and Leonard Bernstein. The two met in November 1937 on Copland's birthday and remained friends for almost half a century. Copland was already an established composer. Bernstein recalled many years later in an article that he "was crazy about" Copland's Piano Variations and when he was introduced to him at a dance recital in New York, he "almost fell out of the balcony".
Copland was extremely influential on Bernstein's career. He often offered constructive criticism for Bernstein's music and even helped him get started in conducting studies, writing him letters of recommendation and guiding him to Curtis Institute. Copland, however, was less enthusiastic about Bernstein's music than his role as a conductor and Bernstein was sharply critical about Copland's music (particular his Third Symphony). Still, their friendship remained overwhelmingly positive. The two spent many summers together at Tanglewood, the summer home of the Boston Symphony, and Copland's rhythmic freshness and recognizable American style can be seen in some of Bernstein's work.